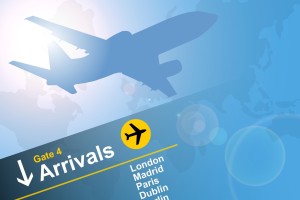 Another piece from my forthcoming collection of letters to Esther; this one written over three years ago. My goodness, time flies…
My Darling Esther,
It is May 30, 2012. I am flying at 36000 feet, traveling at 554 miles per hour, heading west from London and home to you. I miss you so much; so, so much. As I contemplate my arrival home in a few hours, I am remembering the moment you flew into my arms last year as I came home from a week long trip to New York. It seemed a lifetime spent away from you. I remember the sound you made as you jumped to me, wrapping your arms around my neck and your legs tight around my torso. You let escape a moan so deep it went straight through my heart and shook me alive. I know the depths from which that sound comes. It is primordial (Ooh, that's a good word, honey. Look it up.) It is love and need, anxiety and relief all wrapped up together, and I felt it for you too. "Sighs too deep for words" – as Paul in Romans describes our most inexpressible prayers, my Esther – and I sighed for you, too, more intensely that day than even on the day you were born.
One day, my girl, when you set out on your own travels through the world, you'll discover what a strange thing it is: to experience the fantastical freedom of flying off and leaving your silly, stodgy, irritating family behind; letting go your former things, your ingrained ways of doing and being, to make room for new things and new ways and new doings. And in a fit of the human condition even you will not escape, you'll toss the old and new together, just as you will toss about in the lonely winds of that same fantastical freedom that lured you to its beauty in the first place. And then, like Dorothy, you'll realize where you are may indeed be lovely, but where you came from ain't so bad either. You'll feel that paradoxical pull toward home every one of us comes to feel. You'll click your proverbial heels and wind your way back into the arms that loved you enough to let you go; the arms that will welcome you home each and every time you choose to return, for how ever long you wish to stay.
You know what, Esther? It's not so different for me, this leaving home and returning again. 10 days ago, when I set out on this extravagant journey to London and Paris to celebrate my 50th, I really needed some time away. It's been a good trip and I'm so grateful for it, though it has not been without its difficulties. Even at my age it's a good thing to tire of your kin, a good thing to travel away from them for a time, and even to miss them. But it's better, I think, to book a return flight; and best of all, to arrive back home.
Can't wait to see you, sweetheart.
Love,
Mama